Are you already tired of your double chin? 
If so, you may seek the assistance of the facial fat lipolysis, a procedure that involves a face fat reduction injection. If you're not a fan of surgeries, this treatment will help eliminate fatty deposits that are tough and difficult to get rid of. It is the most effective way to reduce facial fat without having to deal with general anesthesia, surgical operations, scars, and time off. 
How Does Facial Fat Lipolysis Work?
Before undergoing the procedure, the doctor will first have a comprehensive evaluation of your current health. This strategy will help him analyze the fat deposits inside your body. 
Once these have been done, the skin areas on your face will be marked, and a local anesthetic cream will be applied. This step will ensure thorough disinfection in your face to eliminate the risk of side effects of the lipolysis injection before and after the procedure. Afterward, the doctors will deposit a small amount of active substance through a face fat loss injection. This substance will be placed at approximately 1 to 2 cm into the skin tissue using special ultra-thin needles. 
These face slimming injections might bring some mild burning and pain since the content of the injection melts down the fat deposit. The fat that was broken down is then transported away through the help of the lymphatic system. Take note that these melted-down fat cells are permanently gone – just like after a facial lifting procedure and liposuction. 
This medical beauty treatment consists of a 30-minute outpatient procedure and should be repeated consistently at intervals of 4 to 8 weeks. Our aesthetic clinic Phuket requires one to four sessions to ensure its visible and long-term success.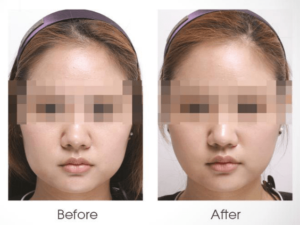 Guidelines For The Patient
You should always keep in mind that there are various patient guidelines to ensure your safety from the procedure. 
If you are housing poor tone or loose skin, seek the guidance of your doctor first so he or she can tailor the procedure to your condition. 

Do not drink alcohol to avoid any complications within your body system. 

Inform your healthcare provider with your ongoing medications – whether there are prescription drugs or over-the-counter medicines. 

Do not rub the affected area on the day of the procedure.

Avoid using make-up until the next day. 

Perform one-hour aerobic exercises for the next three days. 
The Recovery Process
There is no downtime when it comes to facial fat lipolysis. However, it is normal for patients to experience some redness, hardness, and slight pain in the treated areas. Do not worry since these typically soften with time. Our wellness center Phuket helps address these kinds of concerns. 
Additional Notes
To attain the best results, this procedure should be performed first on smaller areas that have a high accumulation of fat (e.g., double chin). You should also take note that facial fat lipolysis is not enough to solve your fat problems. It is also essential to complement this with proper diet and nutrition to further enhance the effects. 
Book your facial fat lipolysis soon by calling +66 94 926 32 69 or visiting our Rawai Phuket Thailand clinic. We will also be opening another branch soon at Laguna Phuket.